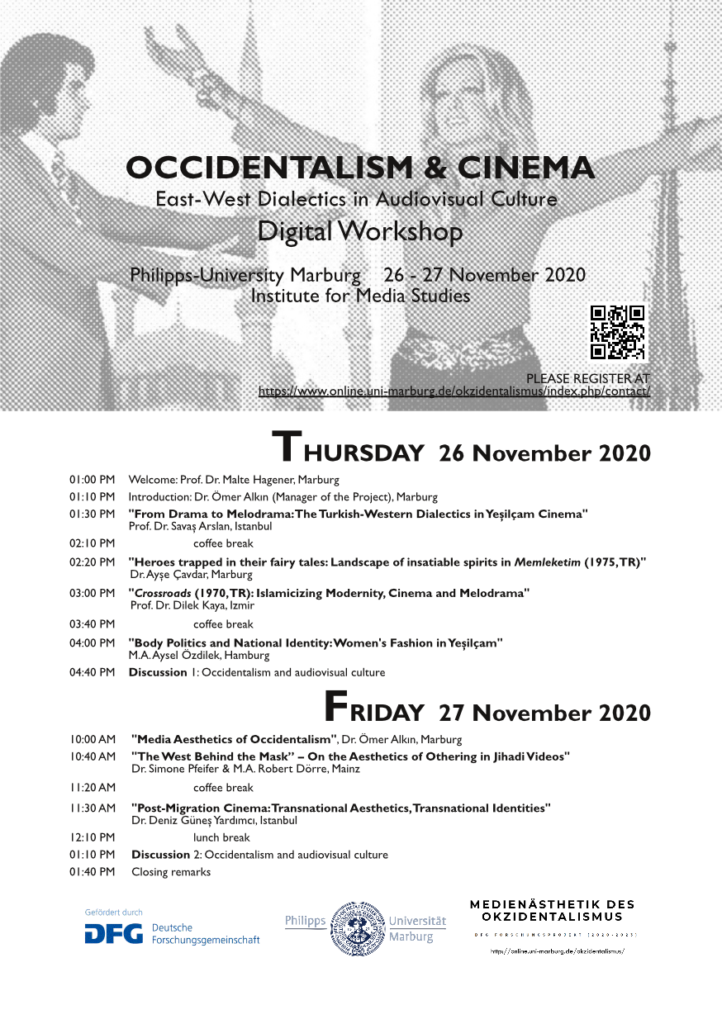 The digital workshop "Occidentalism & Cinema" will take place from November 26 to 27, 2020. In the workshop we want to understand how cinematic images are active in the production of such conservative politics that depict the West in a pejorative way (occidentalism).
Experts will discuss the question of how the connection between conservative politics and Turkish or Islamic-oriented media culture can be analytically grasped. The presentations revolve around topics such as the founder of an Islamic-conservative cinema, Yücel 'akmakl', Turkish cinema and jihadist video strategies.
In order to register for the event, please use our contact form or send an email to hayriye.kapusuz(at)uni-marburg.de. You will then receive further information and a link for the video conference.
---
German Version:
Vom 26. bis 27. November 2020 findet der englischsprachige Workshop "Occidentalism & Cinema" statt. Wir wollen im Workshop verstehen, wie die filmischen Bilder bei der Herstellung von solchen konservativen Politiken aktiv sind, die den Westen abwertend darstellen (Okzidentalismus).
Anhand von ausgewiesenen Expert*innen wird im Workshop die Frage erörtert, wie der Zusammenhang von konservativen Politiken und islamisch-orientierten Medienkulturen analytisch zu fassen ist. Die Vorträge kreisen um Themen wie den Begründer eines islamisch-konservativen Regisseurs, Yücel Çakmaklı, das türkische Kino, Migrationskino und dschihadistische Videostrategien.
Um sich für die Veranstaltung als Online-Teilnehmer anzumelden, nutzen Sie bitte unser Kontaktformular oder senden Sie eine Mail an: hayriye.kapusuz(at)uni-marburg.de. Sie erhalten dann weitere Informationen und einen Link für die Onlineteilnahme am Workshop.