---
Attention: Due to the COVID-19 Situation the conference will be held online!
---
Philipps-Universität Marburg
Universitätsbibliothek
Veranstaltungsraum – Ebene 0
Deutschhausstr. 9
35037 Marburg
Directions
The new university library is accessible from different sides, the main access is via Deutschhausstraße (see site plan). The house number is number 9. The UB is located behind the buildings on Deutschhausstraße, access on foot is possible at house numbers 2-3. The access for deliveries is between house numbers 15 and 19 of Deutschhausstraße.
Further accesses lead – coming from the lecture hall building – over the Mühlgraben or over the Pilgrimstein along the bicycle terraces to the western entrance of the atrium.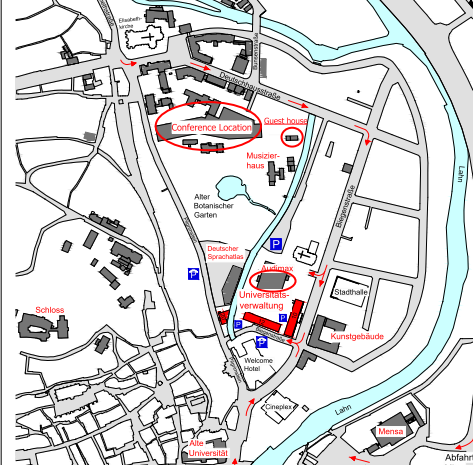 Google Maps link to the location
Arrival by public transport
In the immediate vicinity is also the bus stop "Elisabethkirche", which is served by numerous bus lines in Marburg (1, 2, 3, 4, 5, 6, 7).
All bus lines with the stop Erwin-Piscator-Haus (1, 2, 3, 4, 5, 6, 7, 9) can also be used to reach the new university library. The footpath then goes past the Peter and Paul Church over the bridge at the Mühlengraben.
Arrival by car
Opposite the building is the Oberstadt parking garage, where you can park for a fee.
Contact
If you require any further information please contact us:
occiden@staff.uni-marburg.de