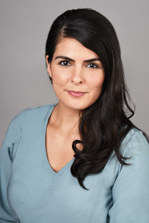 Former Team Members
---
Prof. Dr. Ömer Alkin
is Professor of Applied Media and Communication Studies at the Niederrhein University of Applied Sciences and head of the DFG research project "Aesthetics of Occidentalism" (2020-2024). In addition to his academic activities, he is active in the field of intercultural education as well as digital learning. Research interests are: Film, cultural education, racism, migration, Islam and audiovisual culture, global identity politics such as Occidentalism, and postmigration issues.
---
Aysel Özdilek
studied Turkish Studies, Educational Science and Protestant Theology at the University of Hamburg, which she completed in 2015. She is currently doing her PhD at Johannes Gutenberg University Mainz on aesthetics, trends and discourses of Turkish TV series culture between 2005 – 2021. Her areas of interest are audiovisual media and popular culture in Turkey.
---
Nur Akkuş
studied Turkology, Central Asian Studies and Ethnology at the Georg-August-University in Göttingen. From 2015 to 2020, she worked as a research assistant in the BMBF project SchriFT and in the follow-up project SchriFT II at the University of Duisburg-Essen.
Her research focuses on multilingualism, language awareness, and the didactics of heritage language teaching. Since September 2022 working as a research associate for the DFG project "Aesthetics of Occidentalism" (2020-2024).
---
Hayriye Kapusuz
has a PhD in media studies. Her research interests include media reception research, film aesthetics and media literacy. She is currently a research associate in the GRF-funded project "media/rep/" at Philipps-Universität Marburg.
In addition to her academic work, she offers courses on media literacy in child and youth welfare and conducts media courses at secondary schools.